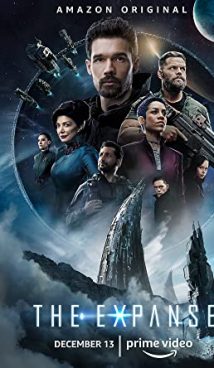 TV-14
01 hours 00 minutes
Synopsis
Plot
TV-series "The Expanse" transports us centuries ahead. Our solar system is fully explored and represents a world where three parties are constantly in a fight for their interests. These opponents are Earth, Mars (colonized by militaristic people), and the Asteroid Belt (inhabited by people from our planet). The newfound so-called "protomolecule" — a strange substance with a mind that came from the depths of the universe — violates the fragile truce in the solar system.
In the new fourth season, humanity begins to travel through the opened portals to other worlds. Some expect to find new resources, while others are obsessed with the idea of ​​discovering the secrets of the protomolecule.
Interesting Facts
– Initially, "The Expanse" was aired on the American channel SyFy which specializes in science fiction. However, after the third season, the channel management decided to close the series. Petitions against this decision appeared on the Internet, and after just two weeks it was revealed that Amazon bought the rights to "The Expanse" and was ready to film new seasons.
– The TV-series is based on the novel series written by two authors, Daniel Abraham and Ty Frank, but published under the pseudonym James Corey. The first novel in the Leviathan Wakes series was nominated for Best Novel at the Hugo Award in 2012. Eight novels of the series are published already, and the final ninth one will be released this year.
– They finished filming the fifth season of "The Expanse" before the beginning of quarantine and Amazon is getting it ready now. One unpleasant situation might overshadow the premiere — the actor Cas Anvar, who plays the pilot Alex, is accused of sexual harassment. The filming studio is investigating now, and soon we will find out what consequences there will be for the series.
Information
This is a Canadian American science fiction TV-series based on the novel series by Daniel Abraham and Ty Frank.
The premiere of the Season 4 took place on December 13, 2019 on Amazon Prime.
FAQ
– What channel is behind the TV-series production?
The first three seasons were aired on SyFy channel. However, after they closed the series the rights on it were bought by Amazon that ordered filming of the fourth and fifth seasons.
– Will there be a continuation?
Yes. The Season 5 is filmed already and will be shown around the end of 2020.
More Like This
Dark Matter

Star Trek: Discovery

Altered Carbon