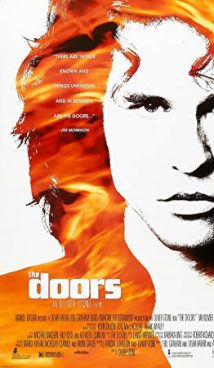 Synopsis
Every great rock band deserves its own biopic. The Doors are one of them. They deserved a screen adaptation of their story, which was directed by Oliver Stone, the master of biographies.
Before our eyes is a kaleidoscope of episodes from the childhood of Jim Morrison through the peak of fame of The Doors to the tragedy in Paris and the burial at Père Lachaise.
Interesting Facts
The Doors was presented on February 23, 1991, at a special screening in Los Angeles, and in March, it was released worldwide.
Actor Val Kilmer, who played Jim Morrison, really got into the role. He performed the vocal parts in the film himself, and his voice was overdubbed onto the original soundtrack. The Doors talked about having a hard time distinguishing Kilmer's voice from Morrison's. Curiously, such stars of the nineties as Charlie Sheen, John Travolta, and Richard Gere auditioned for this role.
It was very difficult for Val Kilmer to step away from the role. According to him, after filming, he turned to a psychiatrist for help, so that he 'kicked Jim' out of his head.
The director of The Doors, the great Oliver Stone, played a small role of a teacher in the film.
In the film, we see the pagan wedding ceremony of Jim Morrison and Patricia Kennelly. The real Patricia plays a Wicca priest here.
The Doors guitarist Robbie Krieger insisted that the film showed clearly that he (and not Jim Morrison) wrote the great song Light My Fire.
Information
This is a co-production biographical drama film based on real-life events.
The world premiere of The Doors took place on February 23, 1991.
More Like This
When You Are Strange
Nixon
Born on the Fourth of July
The People vs. Larry Flynt
Tags: drama, biography, music, biopic, The Doors, Jim Morrison, Val Kilmer