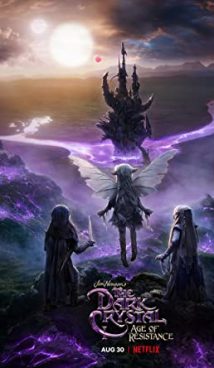 TV-PG
01 hours 00 minutes
Synopsis
There is Tra, a magical world inhabited by wondrous creatures. The world of Tra is ruled by Skeksis, ugly creatures who call themselves "Keepers of the Crystal" and lord it over cute Gelflings. Seven clans of Gelfling with very different lifestyles are scattered across Tra. While some are fishing, others hone their fighting skills, and still others learn mystical rituals.
One day, Rian, a young Gelfling, uncover the terrible truth that the Skeksis, instead of guarding the Crystal, use it as a source of magical power. In addition, from Ryan's tribesmen, they extract the essence that prolongs life. Trying to tell his fellow tribesmen about the true intentions of the monsters, the young man became an outcast. Wanting to find like-minded people, Rian sets off on a journey across the expanses of Tra.
Interesting Facts
The Dark Crystal: Age of Resistance Season 1 premiered on July 19, 2019 on the Netflix streaming service with all episodes immediately available for viewing.
Liked by the film critics, the animated series unfortunately did not enjoy much success with viewers. So, a year after the first season premiered, Netflix announced that the series would not be renewed for a second season.
The animated series was the prequel to the 1982 "The Dark Crystal", animated feature film by Jim Henson who is also known as the creator of the "Muppets Show". Died in 1990, this wonderful director did not live to see the reincarnation of his ideas. It is noteworthy that Lisa Henson, Jim's daughter, is the executive producer of the animated series. The new TV show deliberately used the old-fashioned animatronic technique and excluded the use of modern technology.
It's funny that with a very adult storyline, this animated series won an Emmy for "Best Children's Program".
After the release of the TV show, a PC game based on the "Dark Crystal" – and expands the universe of the world of Tra significantly – was released.
About
The Dark Crystal: Age of Resistance is an American-British-produced fantasy animated series, a prequel to the 1982 puppet film "Dark Crystal". The first season of the TV show premiered on July 19, 2020 on the Netflix streaming platform.
Related Shows
Muppets Show
The Dragon Prince
Tags: animation, animatronics, adventure, prequel, drama, fantasy