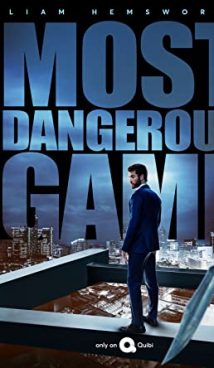 Synopsis
The film revolves around a young man Dodge (Liam Hemsworth) who finds out that he is terminally ill and has only a short time left to live. It was at this moment that he received an offer to take part in a very dangerous game, where he was to be in the shoes of prey. Winning this hunt will help his pregnant wife Val (Sarah Gadon) after his death, and the young man agrees. However, he does not even imagine what the hunter Miles (Christopher Waltz) is able to do.
Most Dangerous Game is the flagship project of Quibi, new streaming service. The fresh platform is designed to view content on smartphones, and this suggests a new format as follows: the series appear in the application every working day, and their duration is only 10 minutes.
 Interesting facts
The new streaming service Quibi was launched on April 6, 2020 and immediately opened access to the first three episodes of Most Dangerous Game. Besides, another platform flagship, i.e. the series Survive with Sophie Turner, premiered on this day.
Most Dangerous Game is a TV adaptation of the similarly-named story about manhunt written by Richard Connell. Several dozens of films have already been shot based on this story, the last of which is The Hunt (2020) with Hilary Swank and Emma Roberts.
April 2020 was very successful for all three Hemsworth brothers. Liam appeared in Most Dangerous Game, Chris starred in the action movie Extraction (is available from April 24 on Netflix), and Luke can be seen in the third season of Westworld.
Information
The American-made TV series is based on the similarly-named novel by Richard Connell and shot in the thriller genre.
The first season premiered on April 6, 2020 on Quibi service.
You can watch the series trailer online on the website without registration.
  FAQ
What channel is producing the series?
Most Dangerous Game was shot for Quibi streaming platform.
When did the first season come out?
The entire first season is available on the service from April 22, 2020.
The producers have not yet announced the continuation of the series.
Tags: thriller, crime, manhunt, short series, adventure, action