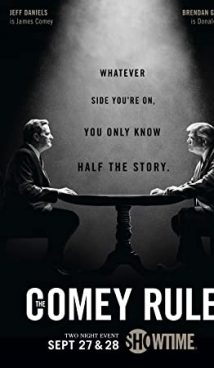 TV-MA
03 hours 20 minutes
Synopsis
The creative elite of the United States does not stop reflecting on the election of Donald Trump as President. A month before the new presidential election, Showtime presents a TV series about James Comey's tenure as director of the FBI. Highlighted in the press a few years ago, events will sweep before the eyes of the audience: discussions about attacks by Russian hackers, an investigation into the story of Hillary Clinton's letters and Trump's election as US President.
Interesting Facts
"The Comey Rule" Episode 1 was released on September 27, 2020 on Showtime.
The miniseries is based on "A Higher Loyalty: Truth, Lies, and Leadership", an autobiographical book by James Comey. Released in 2018 in the United States, this novel generated a strong public response. While the GOP tried to discredit the book, the hype did its job, selling over 600,000 copies of the novel in its first week. In the summer of 2020, it became known that Comey was writing a second book entitled "Saving Justice: Truth, Transparency and Trust", which will focus on the American legal system.
About
The Comey Rule is an American-made political drama television series based on the autobiography of James Comey. The first season of the TV show premiered on September 27, 2020 on Showtime.
Related Shows
When They See Us
The Good Lord Bird
The Last Tycoon
Tags: politics, USA, FBI, Donald Trump, elections, Jeff Daniels