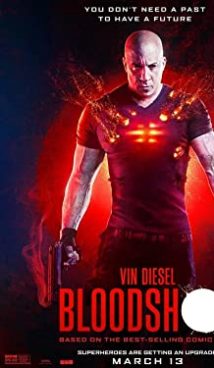 PG-13
01 hours 49 minutes
Synopsis
Ray Harrison (Vin Diesel) is a sea soldier who was resurrected after death by the scientists. They not only bring him back to life, but also endow him with superpowers. Now he is a super soldier in an elite force. However, over time, he begins to remember that he and his wife Gina (Talulah Riley) were killed; then the face of the killer came back in the depths of his memory. Now Ray (or Bloodshot) is obsessed with revenge and cannot stop.
 Interesting facts
Initially, Jared Leto was considered for the role of Bloodshot, but he was replaced by Vin Diesel. By the way, next year we will see Jared in the movie Morbius from a completely different comic book universe.
Vin Diesel is also a part of the Marvel Cinematic Universe. He voiced the favorite of the public, a tree-like creature named Groot, in fifteen languages.
Bloodshot was supposed to be the first film of the Valiant Comics Universe. It was originally planned to release five films; however, the box office flop of Bloodshot, apparently, changed the plans of filmmakers. At least there is no news about the planned sequel yet.
 Information
The American-made film is based on comic books and shot in the fantastic action movie genre.
The film premiered on March 13, 2020 in the USA.
You can watch the movie trailer online on the website without registering. You can also find interesting facts about the film and find out the release date in Russia.
 FAQ
When did the film premiere in the world?
Bloodshot premiered on March 13, 2020 in the USA; however, due to the coronavirus pandemic, the film became available in online cinemas on March 24, 2020 already.
 Related Movies
Joker
Suicide Squad
The Avengers