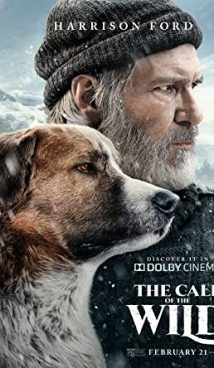 Synopsis
This is a new film adaptation of the legendary novel by Jack London, which is a hybrid of modern computer technology and impressive outdoor shooting.
Leading a carefree life in the warm state of California, Buck the dog was once stolen by thieves and sold to Alaska. There, in the snowy lands, Buck becomes a sled dog. Together with his pack, he transports postal sleds across the most rugged lands. The dog's life gets harder and harder until once the prospector John Thornton took Buck to himself.
Interesting Facts
The Call of the Wild premiered on February 19, 2020. Its digital release took place on May 1, 2020, and from that moment it became available for viewing on major streaming services.
Since eco-friendly technologies were used to produce the movie, the film crew used solar panels, while disposable plastic bottles and non-degradable disposable tableware were banned.
The Call of the Wild is the feature film debut of director Chris Sanders. Previously, he directed hits such as "Lilo & Stitch" and "How to Train Your Dragon".
It is noteworthy that Harrison Ford's two most famous roles are also associated with the dog. Since George Lucas had a Malamute named Indiana, the filmmaker named the archaeologist-adventurer Jones (Harrison Ford) after his dog. Also, Indiana the dog served as an inspiration for the image of Chewbacca, Han Solo's partner.
Published back in 1903, this story by Jack London is going through its seventh adaptation. In previous films, Clark Gable, Charlton Heston and Rutger Hauer have played the role of John Thornton.
About
The Call of the Wild is a Canadian-American film based on the adventure-drama novel of the same name by Jack London. The world premiere of Call of the Wild took place on February 19, 2020.
Related Films
Togo
Dolittle
A Dog's Purpose
Tags: film adaptation, Jack London, dog, Alaska, drama, adventure, Harrison Ford