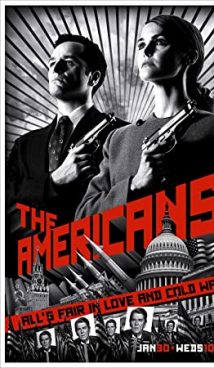 Synopsis
The affluent American Jennings family living in the 1980s near Washington DC is at the center of the TV show's plot. At first glance, it seems that they represent the average statistical cell of the US society, no different from their suburban neighbors. However, Philip and Elizabeth are in fact Misha and Nadia from the USSR transferred to the United States as part of the USSR KGB mission many years ago. They are highly trained intelligence agents. However, has their life changed in enemy territory?
Seemingly absurd and ridiculous at first glance, "The Americans" brings the inner drama of the main characters to the fore. Although Misha and Nadya feel a duty to serve their homeland, they still want to have their own personal life in the first place.
Interesting Facts
A pilot episode of the TV show was aired on January 30, 2013 on FX. Recognized by both viewers and critics, this TV show ran for 6 seasons. The episode "START" released on May 30, 2018 is a television series finale.
Over the years on air, "The Americans" TV show has won numerous TV awards including a Golden Globe (five nominations) and four Emmy Awards (18 nominations).
Notably, Joe Weisberg, showrunner for "The Americans", was previously a CIA agent.
Actor Kosta Ronin, who played the KGB officer Oleg Burov, has Russian roots. Born in Russian Kaliningrad, he later moved to New Zealand with his family. It is noteworthy that Ronin also starred in the iconic TV show "Homeland", playing a similar role as GRU operative Yevgeny Gromov.
About
The Americans is an American-made spy thriller television series. The first season of the TV show was premiered on January 30, 2013 on the FX channel.
Related Shows
The Man in the High Castle
Homeland
Perry Mason
Boardwalk Empire
House of Cards
Tags: drama, spy thriller, crime, agents, USSR vs USA, KGB, CIA