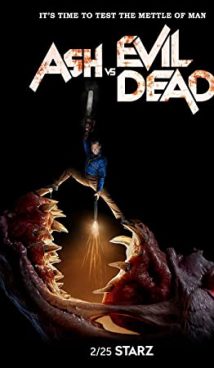 Synopsis
Introducing the sequel to the legendary Evil Dead franchise, an iconic fusion of horror, trash and black comedy.
Although Ash (Bruce Campbell) is far from young and still only has one arm, he continues to fight demons. The idiot Pablo and the beauty Kelly, who worked with him earlier, but now following him on crazy travels across America, help Ash in this difficult matter.
Interesting Facts
The first episode of the TV series was released on October 31, 2015 (Halloween) on Starz TV. Renewed twice, the TV show was canceled on April 29, 2018.
The reason for the closure of the TV show by Starz is the low ratings of recent episodes. Ash vs Evil Dead holds the record for the number of illegal downloads from the Internet. We can say that this TV show fell victim to internet pirates.
Actress Lucy Lawless, well known to many as Xena Warrior Princess, is the performer of one of the title roles. It is noteworthy that Bruce Campbell also participated in the mythological television universe that made Lucy popular – he played Autolycus, the son of Hermes.
The Evil Dead Universe continued to develop even after the final episode of the TV show. Although a premiere date has not yet been announced, a new film is already in development. In addition, "Evil Dead: The Game" is a new video game set to be released in 2021 in which the character Ash will speak in the voice of the irreplaceable Bruce Campbell.
About
Ash vs Evil Dead is an American-made horror comedy TV series, the sequel to the Evil Dead series. The first season of the TV show was premiered on October 31, 2015 on the American TV channel Starz.
Related Shows
Tags: horror, black comedy, mysticism, demons, evil dead