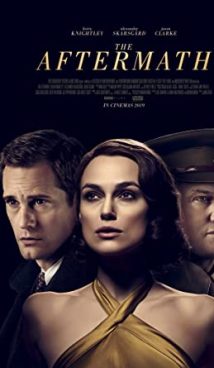 Synopsis
1946, a difficult post-war period. An English citizen Rachel and her son move to ruined Hamburg, where her husband Lewis Morgan becomes mayor.
The military administration lodges the spouses who have not seen for a long time in a beautiful house that was not destroyed during the shelling of the city.
Previously, the house belonged to a German architect, whose wife died during the war. The former owner has to squeeze, because now Rachel and Lewis are the masters of the situation. But what happens when former opponents live in the same house? Should they forget about the past and move on? Or will all the resentment and suffering burst out?
Did You Know?
The Aftermath was shown to the public for the first time on February 26, 2019 at the Glasgow International Film Festival, and the movie was released on March 1. From June 14, 2020, The Aftermath is available on streaming services.
The Aftermath is based on a novel by Welsh writer Rhidian Brook. The book has been translated into 25 languages.
Interestingly, two years before The Aftermath, actor Jason Clarke starred in another film adaptation dedicated to World War II. In 2017, The Man with the Iron Heart was premiered. The movie is dedicated to the Czech-Slovak Resistance in Nazi-occupied Prague. In this film, Clarke played Reinhard Heydrich. Both movies were filmed in the Czech Republic.
Keira Knightley and Jason Clark have already played a married couple. This happened in the movie Everest, which was released in 2015.
Alexander Skarsgård has Swedish citizenship, although he played a German character. In recent years, the Scandinavian actor is doing well: in December 2020, the premiere of the series The Stand based on the cult novel by Stephen King will take place, where Alexander plays the role of the main antagonist Randall Flagg. In 2021, Skarsgård will appear in the blockbuster Godzilla vs. Kong.
Information
Co-production film based on the novel The Aftermath by Rhidian Brook. The Aftermath premiered on February 26, 2019 at the Glasgow Film Festival.
More Like This
The Reader
Official Secrets
The Man with the Iron Heart
Tags: Drama, War, Germany, Hamburg, Treason, Love, Keira Knightley, Alexander Skarsgard, Film Adaptation