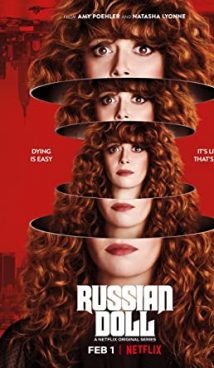 Synopsis
New Yorker Nadia Vulvokov turns 36. However, there's some bad luck involved because her birthday lasts and repeats over and over. Nadia constantly dies in different situations, each time coming to her senses again in the apartment where the party is alive. Unsuccessfully trying to avoid accidental deaths, Nadia realizes that she needs to deal with her life in order to end this Groundhog Day.
Interesting Facts
Russian Doll is not afraid of comparisons with the classic Groundhog Day movie but also draws comparisons with it. The same festival that gave its name to the popular plot twist is held annually on February 2. The premiere of Russian Doll took place on the Netflix streaming service on February 1, 2019. By the way, Groundhog Day was released in February 1993.
The plot about how the main character wakes up again and again on the same day and is forced to do something important to get out of the chain of repetitive events is incredibly in demand in movies and TV-series. For example, this is the plot of the blockbuster Edge of Tomorrow. Interestingly, long-running fantasy series such as The X-Files and Agents of SHIELD uses the concept of Groundhog Day for some of their episodes. But in the Try, Try episode of the new remake of The Twilight Zone, the opposite situation is shown — we see the hero, who lives in constant repetitions, through the eyes of the girl he is courting. It looks scary.
The leading role in the Russian Doll TV-series Russian Doll is played by Natasha Lyonne, who was once famous for her participation in the American Pie comedy and its sequels. Nowadays, everyone recognizes her as the prisoner Nicky Nichols from one of the most prominent series of the 2010s, the prison tragicomedy called Orange Is the New Black.
Russian Doll was well-received by the public and critics and got renewed for another season. According to Natasha Lyonne, who also became one of the series showrunners, the Russian Doll's plot is created with three seasons in mind.
Information
This is an America fiction tragicomedy TV-series.
The premiere of the first season took place on February 1, 2019 on Netflix.
More Like This
Orange Is the New Black
Dead to Me
Fleabag
Maniac
High Fidelity
Tags: drama, fiction, black comedy, groundhog day, New York