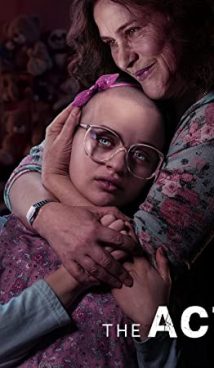 TV-MA
01 hours 00 minutes
Synopsis
The plot of "The Act" TV series is based on a true story that will shock everyone who hears it – so, it is not surprising that it was filmed.
Dee Dee Blanchard, a middle-aged woman, and Gypsy Rose, her sick daughter, live in a small American town. Bathing in the sympathy of the people around them, Dee Dee and Gypsy Rose receive help from charities. Looking unhealthy, the girl has difficulty walking, has no hair and needs a constant supply of oxygen from a balloon.
However, only Dee Dee is really sick – the woman has delegated Munchausen syndrome. By falsifying her daughter's documents and medical records, she gets the attention and sympathy of other people. Ultimately, it's hard to say what exactly has the worst effect on Gypsy – tons of drugs or toxic mother's care.
Meanwhile, the girl grows up and has no idea what terrible consequences her attempt to get out of her mother's control will lead to.
Interesting Facts
The first episode of the TV show premiered on June 28, 2019 on Hulu.
Appreciated for the excellent performance of actress Joey King (Gypsy Rose) Patricia Arquette (Dee Dee Blanchard), critics warmly welcomed "The Act" TV series. Both actresses were nominated for Emmy and Golden Globes – in the end, Arquette won both awards.
Gypsy Rose Blanchard, the person involved in the real story, reacted angrily to the release of the TV series. Serving time in prison, she will be able to be released no earlier than 2024. It is noteworthy that Gypsy will not be able to watch the series due to the imprisonment rules.
The Gypsy Rose story was also played on in Ryan Murphy's "The Politician" TV series. There Dusty (Jessica Lange) cares for a pseudo-sick granddaughter named Infinity (Zoe Deutsch).
About
The Act is an American-made drama television series based on a true story. The first season of the TV show premiered on June 28, 2019 on Hulu.
Related Shows
Unbelievable
You
Sharp Objects
Tags: based on true story, drama, murder, delayed Munchausen syndrome