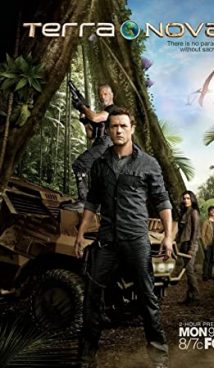 Synopsis
In the not too distant future, the world government is faced with the problem of overpopulation of the Earth. Trying to solve this problem, the government opens a portal to the past – in the Mesozoic era with dinosaurs and other creatures from which people can hide in a fortified settlement.
However, a sad future awaits the planet – destroyed nature, polluted air and strict restrictions on the number of children.
The special lottery winners get a chance to start a new life in the virgin jungle, but without the opportunity to go back, as the portal leads only in one direction. Having received an invitation to travel back in time, the doctor Elizabeth Shannon cannot leave her husband in prison, as he attacked a police officer who discovered that there are three children in their family.
Elizabeth arranged an escape for her husband Jim.  And now a married couple with three children are standing in front of a portal that will send them to the past.  However, they are mistaken in believing that the new life will be simple…
Interesting Facts
The first season of the TV show premiered on September 26, 2011 on Fox. Due to low ratings and high production costs, the TV series was not renewed for a second season.
Steven Spielberg is one of the executive producers of the TV show.
It is curious that the scenery depicting the fence of the Terra Nova settlement has previously blocked the path of dinosaurs, as they are part of the inventory left after the filming of "Jurassic Park".
About
Terra Nova is an American-made fantasy adventure television series. The first season of the TV show premiered on September 26, 2011 on Fox.
Related Shows
Flashforward
Heroes
Continuum
Colony
Defiance
4400
Tags: science fiction, drama, adventure, time travel, dinosaurs, past, future