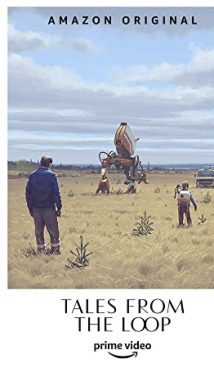 Synopsis
This series is a collection of a number of mysterious stories taking place in a small town in Ohio. This small community is home to the Center for Experimental Physics, called by local townspeople 'The Loop.'
Robots, time travels, body-swaps, levitating cars – all of this should amaze and surprise the citizens, but for them, all of this is just daily life. As all normal people, they fall in love, go to work, grow up, die… Each episode of this collection of stories replaces a familiar element of life with a fantastic and uncommon aspect, thus giving us an opportunity to look at ourselves from a different perspective. The authors created a very attractive world with a twist of retro futurism. Here, droids walk, tractors fly, and no laptops or smartphones can be found. The atmosphere in the series is very meditative and pensieve. Sometimes, the water that streams in the springtime creeks or snow turning blue at dusk in January seem more important to the viewers than the functions of another robot.
Interesting facts
The series takes inspiration from the work of Simon Stålenhag. His paintings portraying the everyday life of a small Swedish town and featuring fantastic elements, became very popular on the internet. Furthermore, Stalenhag is one of the producers of this series.
The role of the founder of Center for Experimental Physics is played by Jonathan Price, High Sparrow in the 'Game Of Thrones' series.
Series creator Nathaniel Halpern released one of the other 'weird' series called Legion based on Marvels comic books.
The last episode of the series is directed by Jodie Foster.
The executive producer of this series is Matt Reeves, known for directing 'Cloverfield,' 'Let me in,' 'Dawn of the Planet of the Apes,' and 'War for the Planet of the Apes.' Right now he is producing and directing the new 'Batman' with Robert Pattinson.
Information
An American sci-fi television series based on the art books by Simon Stalenhag.
'Tales from the Loop' was premiered on April 3, 2020.
You can watch the series trailer online on our website without registering. You can also find interesting facts about the series and its release date.
 FAQ
Which of the streaming platforms releases the series?
Amazon
When will the 1st season be released?
Amazon will release the whole series on 04.03.2020.
Where does the series take place?
Unlike the original source (a small Swedish village), the events take place in the town of Mercer, Ohio.
Did Simon Stålenhag take part in the filming?
Stålenhag is one of the scriptwriters and producers of this series.