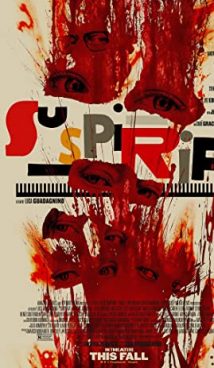 English, German, French, Russian

6.8
Synopsis
Susie, a young dancer, moves to Berlin to attend Tanz, the world-famous ballet studio. However, from the very first day, the heroine realizes that something strange is happening at school – day after day, Susie learns new frightening things about Tanz. So, what is this studio really about? Is it a school or a place for the coven of the witches?
Interesting Facts
The "Suspiria", a new version of the classic horror film, was first shown to the public at the Venice Film Festival on September 1, 2018, and began its wide international distribution in November. The digital release of the movie took place in the winter of 2019.
Although all location shots of Suspiria were carried out in Germany, the scenes in Tanz studio were filmed at the "Campo dei Fiori" Grand Hotel located in Lombardy, Italy. The current owners of the Art Nouveau building, abandoned more than half a century ago, sometimes allow excursion groups to enter it.
Jessica Harper, who starred in the original film by Dario Argento, is also cast in the new version of "Suspiria".
Luca Guadagnino, the film director, has every chance of becoming the most famous Italian director. He is currently working on a sequel to "Call Me by Your Name", his most successful film. September 2020 saw the premiere of "We Are Who We Are", a television show by Luca Guadagnino co-produced with HBO.
Tilda Swinton, who is working with Luca Guadagnino on their fifth joint project, is the director's real muse. By the way, Dakota Johnson, another well-known actress, also previously worked with the Italian director on the "Big Splash" film. It is noteworthy that in preparation for the filming of "Suspiria", Dakota has been intensively engaged in dancing for two years.
About
Suspiria is an Italian-American co-production remake of Dario Argento's 1977 horror film of the same name in the genre of mystery thriller. The world premiere of the new movie took place on September 1, 2018 at the Venice Film Festival.
Related Films
Suspiria (1977)
The VVitch: A New-England Folktale
Midsommar
Call Me by Your Name
Tags: remake, Berlin, dance studio, horror, mysticism, horror, witches