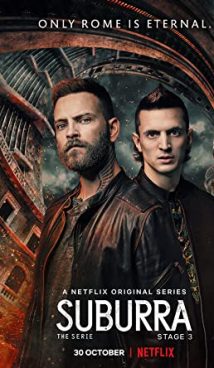 Synopsis
The plot of the TV series takes viewers to Ostia, the seaside area of ​​Rome with its beaches, restaurants and resort life. However, Ostia becomes the arena of confrontation between powerful forces – local criminal clans, gypsy groups, corrupt police officers, the Sicilian mafia, dirty politicians and even representatives of the Vatican.
Interesting Facts
"Suburra: Blood on Rome" was presented to the public on September 1, 2017 at the Venice Film Festival. All episodes of the first season of the multi-part thriller, Netflix's first Italian-language TV show, were made available for viewing on October 6, 2017 on the streaming platform. The TV show was renewed for a second and third seasons, premiered after a year and a half and on October 30, 2020, respectively. At the moment, the television series is officially closed.
The TV series is based on the 2015 Italian film of the same name, which became a sensation in Europe. "Suburra: Blood on Rome" featuring several characters from the original film. Curiously, the film was inspired by a novel by Giancarlo De Cataldo and Carlo Bonini, which in turn was based on a real criminal case. The investigation into the ties between the Roman government and organized crime has been dubbed "Mafia Capitale".
Michele Placido, an actor best known for his role as Commissioner Cattani on the TV show "La piovra", produced several episodes of "Suburra: Blood on Rome".
The unfavorable area behind the Colosseum is exactly what the ancient Romans called 'Suburra'. Inhabited predominantly by the poor, it had a bad reputation. Renamed Monti, it is now an authentic prosperous neighborhood located in the heart of the Italian capital. Curiously, Ostia – the place where the main action of the TV series takes place – did not exist in ancient Rome. After being flooded for a long time, this area was inhabited and became a resort suburb only after the sea receded.
About
Suburra: Blood on Rome is an Italian-made crime thriller TV series based on the 2015 movie of the same name. The first season of the TV show premiered on September 1, 2017 at the Venice Film Festival.
Related Shows
ZeroZeroZero
Gomorra
Devils
Narcos
Tags: Italy, Rome, mafia, crime, thriller, murder, drama