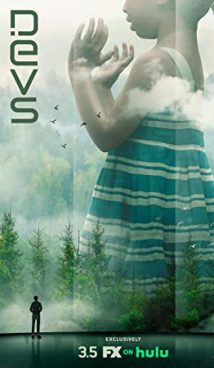 TV-MA
06 hours 49 minutes
Synopsis
A computer engineer investigates the secretive development division in her company, which she believes is behind the disappearance of her boyfriend.
TV debut of Alex Garland, who is a director, screenwriter and writer.
The action of Devs series takes place in Amaya IT Corporation, where Lily (Sonoya Mizuno) works. Her boyfriend and colleague is the Russian wunderkind Sergei (Karl Glusman), who mysteriously disappears. Lily wants to understand what happened and is trying to get into the secret unit of Amaya. What she sees will completely change her view of the universe.
Interesting facts
Alex Garland is a jack of all trades. He started with comics, then wrote novel The Beach, on the basis of which his friend Danny Boyle made the similarly-named film with Leonardo DiCaprio. Then Garland and Boyle worked as screenwriters of the films 28 Days Later and Following that he worked on video games. In 2014, Alex, as a director, screened the film Ex Machina, which received good critical opinions. Garland also worked on a screenplay for the never-made movie in the Halo Universe.
The main role in the series is played by Sonoya Mizuno (by the way, unlike her heroine, she has Japanese, not Chinese roots). She starred in all directorial projects by Alex Garland as follows: Ex Machina,Annihilation and Devs.
The name of Amaya Corporation is also a reference to Garland's previous project, i.e. Annihilation. That was the name of the fort discovered by Natalie Portman's heroine in a mysterious zone.
 Information
The American-made TV series shot in the science fiction genre.
The first season premiered on March 5, 2020 on the FX channel.
You can watch the series trailer online on the website without registration.
 FAQ
What channel is producing the series?
Devs series was televised on the Hulu TV channel.
When did the first season come out?
The first season of Devs was broadcast from March 5, 2020 to April 16, 2020.
Devs was originally planned as a mini-series and did not involve continuation.
Tags: science fiction, IT, Silicon Valley, drama, philosophy