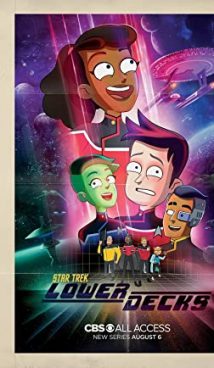 Synopsis
The animated TV-series Star Trak: Lower Decks is an extension of the epic Star Trek film franchise. Now, the focus is no longer on the heroes who decide the fate of the universe but on the four ensigns of "one of the most unimportant spaceships in Starfleet." With the main characters, we will look at the depths of space not from the captain's cabin, but through the eyes of ordinary workers in the lower decks.
Interesting Facts
Star Trek: Lower Decks is the second animated TV-series in the Star Trek universe. Before him in the seventies saw the light of Star Trek: The Animated Series. The cast of the original TV-series gave their voices to the animated characters and it became popular with the grown-up fans of the franchise. By the way, in 2021 the Nickelodeon channel will air another animated series of the Star Trek universe. It will show the story about teenagers who found an abandoned Starfleet ship.
In addition to this animated series, another TV-series from the Star Trek franchise, Star Trek: Picard, has been released this year. Also the Star Trek: Discovery's third season will premiere on October 15, 2020. Besides, the producers announced that they are working on two more TV-series in the Star Trek universe.
However, the latest Star Trek movies are not doing so well. The alternate universe trilogy with Chris Pine and Zachary Quinto did not meet the financial expectations. Quentin Tarantino wanted to join the franchise and even wrote a script for the new movie but quickly switched to his own projects. The last hope of Paramount Pictures is the producer Noah Hawley, the creator of Fargo and Legion, who will be a director of the new movie in the franchise.
The character named Brad was voiced by Jack Quaid, son of Meg Ryan and Dennis Quaid. The famous actors' son gained worldwide popularity last year because of the main role in the TV-series The Boys. By the way, the new season of this crazy series will be shown on September 4!
Two seasons of Star Trek: Lower Decks were ordered right off the bat. So, there will be the second season.
Information
This is an American-made adventure animated series.
The premiere of the first season took place on August 6, 2020 on CBS All Access.
More Like This
Star Trek: Picard
Star Trek: Discovery