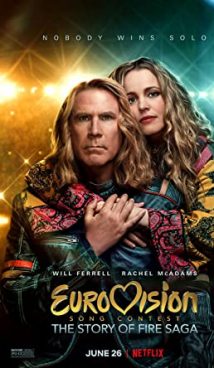 PG-13
02 hours 03 minutes
Synopsis
Although the popular song contest did not take place this year, comedian Will Ferrell, director David Dobkin, and Netflix decided to give us a frivolous comedy about a situation at the Eurovision instead.
Will Ferrell and Rachel McAdams portray the members of the Icelandic music band called Fire Saga, whose dream is getting to the top of the music industry. Their performance at the national selection process for the Eurovision turns out to be a real disaster, but for some unbelievable reason, they still get to the music competition.
Interesting Facts
– In the 2020 Eurovision Song Contest, the Gagnamagnið band was supposed to represent Iceland at the Eurovision Song Contest. Their music video for the "Think About Things" song became a hit.
– The movie director David Dobkin said that before he started to work on the movie, he had not even known about the Eurovision Song Contest.
– The movie's original release date was in May 2020, which should have coincided with the European song contest. However, the coronavirus ruined all plans: the premiere of the movie was postponed to June 26, and Eurovision 2020 was canceled altogether.
– British actor Dan Stevens, well known by the TV-series "Downton Abbey" and "Legion," plays the role of Alexander Lemtov, a singer who represented Russia at the contest.
– This movie is not without real singers. American singer and actress Demi Lovato plays a small role of Katiana, who was supposed to represent Iceland at the Eurovision.
Information
This is an American-made musical comedy.
The world premiere took place on June 26, 2020.
FAQ
– Where can I watch "Eurovision Song Contest: The Story of Fire Saga"?
The movie is available for all Netflix subscribers.
More Like This
Zoolander
Blades of Glory
Irresistible