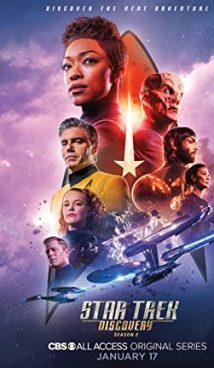 TV-14
01 hours 00 minutes
Synopsis
Welcome to Discovery, the research vessel of the United Federation of Planets Starfleet with mission to explore deep space and search for intelligent new civilizations.
After the events of the series second season, when the Discovery crew confronted artificial intelligence, which posed a serious threat to all intelligent living beings in the Universe, our heroes continue their research mission. Viewers will find new worlds, new races and new dizzying adventures!
Interesting Facts
Brian Fuller, who usually starts shows and then switches to new projects after the release of the first season, was at the origins of the Star Trek: Discovery TV series. For example, he is the author of the most successful Season 1 "Heroes" script. The same has happened for the "American Gods" TV show, which has been in apparent trouble since Fuller left the project. However, the "Hannibal" TV series with all three seasons under the direction of Brian Fuller, may be resumed in the near future. It is noteworthy that Fuller's television career began in 1997 with the Star Trek: Deep Space Nine cult franchise.
The first episode of the TV series will be released on October 15, 2020 on CBS All Access and episodes will air daily until January 2021.
With Star Trek: Lower Decks premiered in 2020, the new animated series and "Picard" fictional TV show, the Star Trek franchise has expanded in recent years. Another animated series, a spin-off featuring Captain Philipa Georgiou, and Strange New Worlds TV show featuring the adventures of the Spaceship Enterprise crew will be released in the near future.
About
Star Trek: Discovery is an American-made science fiction television series. The third season will premiere on October 15, 2020 on the CBS All Access US channel.
Related Shows
Star Trek: Picard
Star Trek: Enterprise
The Orville
The Expanse
Tags: space, research, scientific mission, aliens