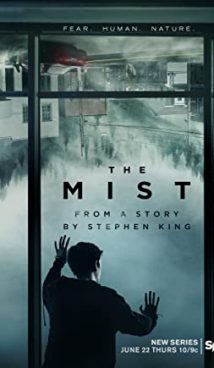 Synopsis
Fog descended on the town of Bridgeville. However, it is rather not a fog but a mist – impenetrable, white and deadly. Nobody knows where this fog came from and what it is. However, when people trapped in the mist and begin to die, the townspeople are forced to flee. Trying to find a safe haven, the residents of Bridgeville are hiding in homes, shops and even churches. However, not everyone realizes that the true death mist has long penetrated the city and lives inside people.
Although the mist awakens all the worst in the townspeople who are ready to do anything for the sake of survival, there are also those who are ready to provide a help.
Interesting Facts
"The Mist" TV series was filmed for US cable channel Spike. The pilot episode was released on June 22, 2017 with subsequent weekly episodes. Following the release of the Season 1 finale on August 24, 2017, the "Spike" bosses decided not to renew the TV show for a second season.
A short story by Stephen King – which has already been filmed earlier – is taken as the basis for the TV show plot. The movie showing the deadly mist was released in 2007, 10 years before the premiere of the television series of the same name. Frank Darabont, who previously worked on two film adaptations of other Stephen King's works ("The Shawshank Redemption", "The Green Mile"), is the director of "The Mist" feature film.
Frances Conroy, the actress who played the elderly Natalie Raven in "The Mist", entered the "Castle Rock" cast a year later, another TV show in which Stephen King is involved. Premiered in 2018, this TV series is a mix of stories by the Horror King.
About
The Mist is an American-made fantasy thriller television series based on the novel of the same name by Stephen King. The first season of the TV show premiered on June 22, 2017 on the Spike cable channel.
Related Shows
Castle Rock
The Rain
Z Nation
Black Summer
The Society
Tags: drama, fantasy, mystic, horror, Stephen King, adaptation, small town