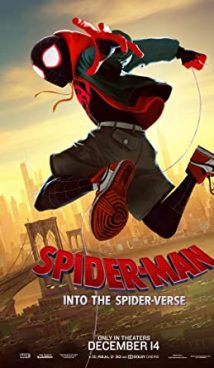 Synopsis
Miles Morales, an ordinary teenager from New York, could not even imagine how the trip with his uncle to an abandoned subway station would end. After being bitten by a strange spider, the young man gains strength with which he is unable to cope. Then things get even worse – the newly-minted superhero is faced with a huge number of villains, and then several more Spider-Men. Soon he discovers a terrible secret – Kingpin, a crime boss, created an apparatus connecting Miles's world with parallel universes. This is a very powerful machine that, at the next start, can destroy the universe in which the young superhero lives. This threat can only be stopped if Spider-Men from various universes will rally against the Kingpin.
Interesting Facts
"Spider-Man: Into the Spider-Verse" cartoon was first shown to the public on December 8, 2018 in Brussels, and began its wide international distribution on December 12. The digital release of the cartoon took place in the spring of 2019.
The new Spider-Man cartoon has been incredibly warmly received by both viewers and critics and has very high ratings on all film studies websites. With a budget of $ 90 million, it grossed nearly 400 at the box office. It's no surprise that its sequel is slated for release in October 2022. It is noteworthy that the producers prepared not only a sequel, but also several spinoffs about the adventures of other Spider-Men.
The cartoon won the Oscar, Golden Globe and BAFTA awards for Best Animated Film.
Originally working on "Spider-Man: Into the Spider-Verse", Alberto Mielgo, a Spanish cartoonist, has brought original animation to the cartoon. In addition, Mielgo is famous for his work on "Love, Death and Robots", a highly successful cartoon anthology. Mielgo also directed one of the best episodes of "The Witness" animated series with its visual style reminiscent of the one used in the Spider-Man cartoon.
About
Spider-Man: Into the Spider-Verse is an American-made cartoon based on Marvel comics in the fantasy genre. The world premiere of the cartoon took place on December 8, 2018 in Brussels.
Related Films
Inside Out
Spider-Man: Homecoming
Spider-Man (2002)
The Amazing Spider-Man
Tags: superheroes, parallel universes, comic, supervillains, cartoon, animation