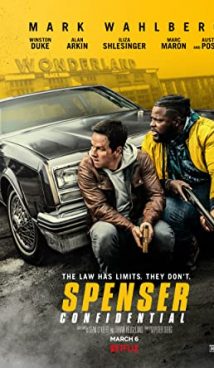 Synopsis
Spenser, a former Boston cop, is convicted of using physical force against his partner. Once free, the main character realizes that his life will never be the same – the police badge will not be returned to him, he has nowhere to live, and the girlfriend does not seek to build further relations with him, the former convict. Spenser's only hope is Henry, his former boxing coach. He provides a living room to ex-cop and asks him to keep an eye on Hawke, the MMA newcomer. Meanwhile, tragedy struck a police officer – an ex-colleague of Spenser's – because of whom he was in prison – was found murdered. Police initially believed Spenser himself was the killer. Later, another cop who committed suicide near the house of his murdered colleague becomes the main suspect. Assuming that the case is unclean, Spenser begins his own investigation, taking Hawke and Sissy, his unreliable ex-girlfriend, as assistants.
Interesting Facts
Mark Wahlberg, the lead actor, also produces The Spenser Confidential. Filming will soon begin on The Uncharted, his new film based on the video game series of the same name. In this film, he will play the role of Victor Sullivan, the protagonist's teacher.
Peter Berg, director of The Spenser Confidential, has previously worked with Mark Wahlberg on several projects. Along with The Spenser Confidential, they are best known for collaborating on four more films – The Lone Survivor, The Patriots Day, The Deepwater Horizon and The Mile 22.
The Spenser Confidential was filmed for Netflix streaming platform. It was premiered on March 6, 2020. Since that date, the film has been available for viewing by Netflix subscribers.
About
The Spenser Confidential is an American action comedy film. The world premiere took place on March 6, 2020 on the Netflix streaming service.
Related Films
Six Underground
Bad Boys for Life
Extraction