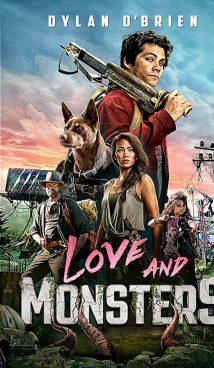 Synopsis
Quite unexpectedly, the Monsterpocalypse happened to our planet, when monsters that came out of nowhere destroyed humanity. The surviving humans lead a miserable existence underground while monsters rule the Earth.
One of the lucky survivors, Joel Dawson, suddenly hears on the radio the voice of his high school girlfriend, Aimee, who is only 85 miles away. Joel, tired of the miserable existence, decides to go in search of his ex-girlfriend. On the way, he will meet several other survivors, as well as a lone dog. But life on the earth's surface has become even more dangerous than before. Can Joel survive and find Aimee?
Did You Know?
The film was supposed to be released in the spring of 2020, but even before the coronavirus pandemic, it was postponed a year in advance, to February 2021. However, in August 2020, Paramount Pictures announced that the film would be released directly digitally on October 16, 2020. The studio also updated the title of the movie (the former title of the film is Love and Monsters).
The leading actor, Dylan O'Brien, is well known to viewers from the Teen Wolf TV series and the fantasy franchise The Maze Runner.
The role of Aimee was played by Jessica Henwick, who became famous for her participation in the TV series Game of Thrones (Nymeria Sand, one of the Sand Snakes) and Marvel's Iron Fist (Colleen Wing).
The film was filmed in Australia.
On his travels, Joel meets the hunter Clyde and his young companion Minnow. Interestingly, the role of Clyde was played by Michael Rooker, familiar to us as Yondu Udonta from Guardians of the Galaxy. Minnow was played by Ariana Greenblatt, who also appeared in the MCU as a young Gamora.
Information
An American-made fantasy movie. The world premiere of Monster Problems will take place on October 16, 2020.
More Like This
The World's End
Zombieland: Double Tap
Zombieland
Tags: Monsters, Post-apocalyptic World, Strange Creatures, Romance, Comedy, Adventure