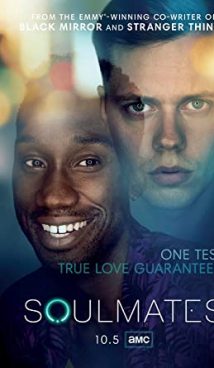 Synopsis
This fresh sci-fi anthology invites viewers to imagine that in the not too distant future scientists will invent a new technology helping in the search for soulmates – just take a little test to find out the name of such a person.
The authors of the series decided to tell six short stories about how the familiar world will change after the invention of such technology.
Is it so good to be with a person with whom the relationship is easy and simple? What awaits those partners with whom people have built relationships for years? What changes will the institution of the family undergo? The Soulmates TV series showrunners will share their thoughts on this.
Interesting Facts
Episode 1 of Season 1 premiered on October 5, 2020 on the AMC American TV Channel with the episode airing daily until November.
William Bridges, showrunner of the television series, known for his work on the popular TV show "Black Mirror". He won an Emmy in 2018 for his screenplay for the "USS Callister" episode of "Black Mirror" TV series. William is also co-creator of "Stranger Things", another hit TV show.
Brett Goldstein, the second showrunner of "Soulmates", also wrote "Ted Lasso", comedy TV show that tells the story of a coach confusing American football with soccer. Having written the script for the television series, Brett also starred in it.
"Soulmates" was renewed for a second season even before the first season premiered.
About
The Soulmate is an American-made social fiction TV series. The first season was premiered on October 5, 2020 on the AMC American channel.
Related Shows
Black Mirror
The Twilight Zone
Upload
Tags: social fiction, near future, almanac, drama, romance