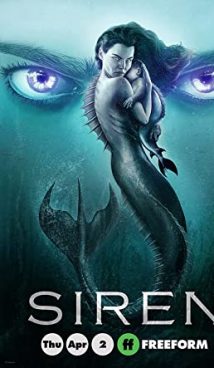 TV-PG
01 hours 00 minutes
Synopsis
Siren takes us inside Bristol Cove, a small port town. Fishermen and marine biologists are probably the major part of the locals. The legend say that mermaids habit close to the town, but any man in his senses takes this information as an old wives' tale. How wrong such man is!
Eventually, scientist Ben Pownall meets peculiar girl Ryn who starts to muddy the water in this sleepy town. Dismissing his skepticism, Ben found out that Ryn is a real mermaid and becomes her lover.
The third season tells about opposition of such characters to Tia, a terrible siren that came to Bristol Cove from the northern seas and wishes to unite all mermaid tribes in order to kill all townspeople.
Interesting facts
Actress Eline Powell is used to fit a scaly tail. She appeared in King Arthur: Legend of the Sword, Guy Ritchie's blockbuster (2017), as a mermaid.
The series was shot in British Columbia, a province in Canada.
Sea lions studied by the marine biologists in Siren were taken for filming from Vancouver Aquarium.
Information
The American-made TV series is shot in the fantastic drama genre.
The third season premiered on April 2, 2020 on Freeform American cable channel.
FAQ
What channel is producing the series?
Siren is shot by order of Freeform cable channel, which is owned, by the way, by the Walt Disney Corporation.
No. Siren is oficially closed.
Related Series
A Discovery of Witches
Roswell, New Mexico
Midnight, Texas