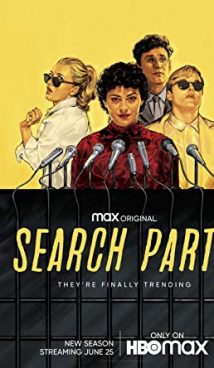 Synopsis
Four self-absorbed hipsters from New York, tired of their fashionable lives, recklessly plunge into something big and dangerous. This gang of millennials is led by Dory (Alia Shawkat), who becomes obsessed with the search for her missing distant acquaintance Chantal. Three youngsters, including Dory's boyfriend Drew, go with her to Canada, where they not only find Chantal but accidentally kill private detective Keith.
Throughout the second season, the hipster trio unsuccessfully tried to hide but in vain. Now Dory and Drew are accused, and they will have to try their hardest not to get into jail for murder.
Interesting Facts
Last year, Alia Shawkat, the actress playing the leading role in the series Search Party, became a star of American tabloids. She is rumored to be having an affair with Brad Pitt. Even though Alia says that they are just friends, judging by the paparazzi's photographs, they spend a lot of time together. During the quarantine, Alia quite often went on a bicycle to visit Brad, they live for nothing not far from each other. By the way, Alia's exotic appearance is the result of a mixture of many nationalities. Her father is from Iraq and her mother is of Norwegian, Irish, and Italian descent.
The producers of the series call it Nancy Drew of the millennial era.
The Search Party showrunners also appear in the series. But if Michael Showalter got the role of Max in the first two seasons, Charles Rogers appears in the credits simply as a Peeing Man.
Information
This is an American-made black comedy TV-series.
The premiere of the third season took place on June 25, 2020 on the HBO Max streaming service.
FAQ
What channel is behind the series production?
The first two seasons were shown on the American TV-channel TBS, but then HBO has bought the rights for this series to show it on its platform.
Will there be a continuation?
Yes. After HBO took the series under its wing, it immediately renewed Search Party for two more seasons.
More Like This