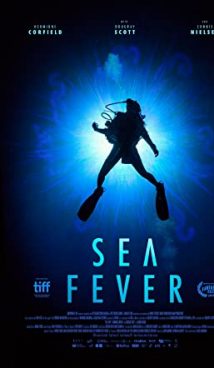 Synopsis
Sea Fever revolves around Siobhán, a marine biology student coming to Ireland's seashore to complete her doctorate. She is assigned to a fishing trawler that ends up in a no-go zone while looking for the big catch. The ship gets trapped at sea after myriads of unfathomable creatures latch onto its hull. The crew must pull together to survive. Sea Fever borrows stylistically from The Thing and Jaws but focuses more on people facing extreme danger rather than monsters. It will not blow you mind with stunning visual effects but will sure keep you in suspense to the very last scene.
Did you know?
Sea Fever is the Neasa Hardiman's debut feature film, which she not only directed but also wrote a screenplay for. Previously, her focus was on TV series, and she is particularly known for directing Marvel's Jessica Jones and Inhumans TV series.
Sea fever is when someone starts losing their grip on reality due to being at sea for too long.
Oscar nominee Toni Collette was originally chosen to play the role of the skipper's wife but due to scheduling issues, she was replaced by equally impressive Connie Nielsen.
Overview
Sea Fever is an Irish horror film. It premiered at the Toronto International Film Festival on September 5, 2019.
Please visit our website to watch Sea Fever trailer online and check out interesting film trivia and a release date. No signup required.
Frequently asked questions
When did the film have its world premiere?
Following its premiere at the Toronto International Film Festival on September 5, 2019, Sea Fever did not hit the big screen due to COVID-19 pandemic. Instead, it headed straight to streaming services in April, 2020.
Where was Sea Fever shot?
All scenes of Sea Fever were filmed in Ireland.
See also
The Happening
Underwater
The Thing