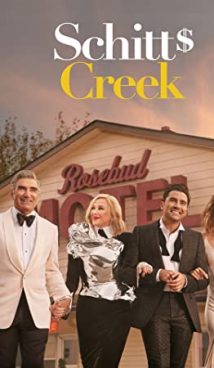 Synopsis
One very wealthy family is at the center of the "Schitt's Creek" TV show. Johnny Rose, the head of the family, managed to earn a seven-figure sum. Moira, his wife, previously starred in a TV shows. Alexis and David, their children, are very spoiled and not suited to real life. However, due to the cheating of a business manager, billionaires become poor in an instant, and a black streak enters the life of the Rose family. The backwoods town of Schitt's Creek is the only asset left to the Rose. Having bought it as a joke several decades ago, Johnny Rose has already forgotten about this town.
The Rose family has no choice but to collect the pitiful remnants of property and go to Schitt's Creek to start a life that is far from ideal. It's easy to guess that most of the jokes on this sitcom are about the differences between rich and poor and the Rose's reaction to life in the countryside. However, having won an army of fans and numerous awards, this TV series has become very successful.
Interesting Facts
The first season of the TV show premiered on January 13, 2015 on CBC. Quickly gaining popularity with viewers, "Schitt's Creek" stayed on air for 6 seasons with the final episode released on April 7, 2020 under the title "Happy Ending".
The winner of the 2020 Emmy Awards, the TV series hit 9 statuettes, which is an absolute record. Television history does not remember a TV show that received so many awards for one season.
Eugene and Daniel Levy, the father and son who starred in the television series, are its creators. Notably, they are also the father and son according to the TV show's plot. Sarah Levy, Eugene's daughter, also appeared in the television series playing a cameo as a waitress.
About
Schitt's Creek is a Canadian-American sitcom TV series. The first season of the TV show premiered on January 13, 2015 on CBC.
Related Shows
The Office
Shameless
Brooklyn Nine-Nine
Grey's Anatomy
Friends
Tags: comedy, Canada, former billionaires, poverty, sitcom