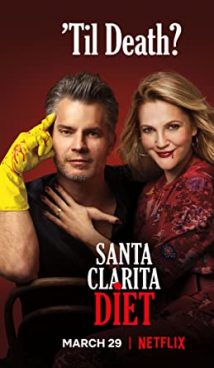 Synopsis
The plot of the TV series takes viewers to the sunny town of Santa Clarita located in California, where the Hammond family lives with their teenage daughter Abby. The girl goes to school and Sheila and Joel, her parents, are partner realtors.
Once, something strange happened to Sheila – feeling unwell, she eventually finds out that her heart has stopped beating. Then the rules of horror films come into force – Sheila begins to eat raw meat, and then switches to human flesh. Fortunately, she keeps her mind clear and does not turn into a slow and clumsy living dead. Joel, as a loving spouse, gives Sheila every support, and even helps her find human flesh.
"Santa Clarita Diet" is a hilarious black comedy featuring an excellent cast that has every chance to appeal to viewers – especially those who appreciate cynical humor.
Interesting Facts
All episodes of the TV show's Season 1 were released on February 3, 2017 on the Netflix streaming platform. Loved by viewers, the TV series has been renewed twice. Season 3 – which is the final one – premiered on March 29, 2019.
The main role of the TV series was written specifically for Drew Barrymore. It is noteworthy that the actress was on a diet during filming, losing weight along with the main character (since Sheila ate exclusively protein foods). During the filming period, Barrymore dropped about 20 lbs.
Curiously, Drew Barrymore and Timothy Olyphant were executive producers of the TV show.
About
The Santa Clarita Diet is an American-made black comedy television series. The first season of the TV show premiered on February 3, 2017 on Netflix.
Related Shows
iZombie
Unbreakable Kimmy Schmidt
Dead to Me
The Good Place
Tags: black comedy, horror, zombies, Netflix, Drew Barrymore, Timothy Olyphant