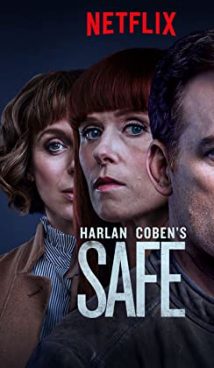 TV-MA
01 hours 00 minutes
Synopsis
Tom Delaney (Michael Hall), the protagonist of the TV series, has a hard time going through the death of his wife. With two teenage daughters, he is at the very least coping with the problems. One day, one of the girls disappears. Desperate, Tom decides to find his daughter on his own. As it became known, Jenny disappeared along with her boyfriend. Now, the whole neighborhood is looking for two teenagers. As the search proceeds, more and more shocking details about the neighbors of the village in which Tom's family live are revealed.
Interesting Facts
The "Safe" TV series was filmed for the French "Canal+". The rights to broadcast TV shows outside of France are held by the Netflix streaming platform. All episodes of the television series premiered on May 10, 2018 on Netflix.
Harlan Coben, who has written over 30 novels and has worked in the television industry in recent years, is the screenplay writer for the "Safe" TV series. Coben also produced "The Five" TV show released in 2016 on Sky1 UK channel, with "Safe" following that project. In addition, Harlan Coben produced "The Stranger" and "The Woods", TV shows based on his novels and premiered in 2020 on the Netflix streaming platform.
Michael Hall, a remarkable actor best known for his role as serial killer Dexter in the TV show of the same name, is the starring actor on the "Safe" television series. Although Michael hasn't been filming that often lately, he will soon be appearing on "Shadowplay" TV show about life in Berlin after WWII.
About
The Safe is a British-produced psychological thriller television series. The first season of the TV show premiered on May 10, 2020 both on French Canal+ and Netflix streaming service.
Related Shows
The Five
The Stranger
The Woods
Dexter
Tags: detective, missing, investigation, drama, crime, secrets, UK