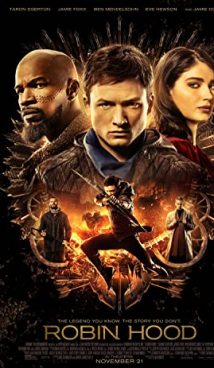 PG-13
01 hours 56 minutes
Synopsis
Robin Hood is another – already at least the tenth – attempt by filmmakers to tell the story of a noble robber from Sherwood Forest. Viewers will see everything that is associated with the hero of medieval English folk ballads – the return of the titular character from the Crusade, corruption in Nottingham, confrontation with the sheriff and love with the Virgin of Marian. However, technological tricks, allusions to the social life of the protagonist and – as usual now – light references to modernity were added by the producers to refresh the story.
Interesting Facts
Robin Hood, the new film was presented to the public on November 20, 2018, and from that day its international distribution began. Since 2019, the film has been available for viewing on streaming services.
Otto Bathurst, the film's director, is best known for his work on television shows. He previously directed television series such as "Black Mirror", "Peaky Blinders", and "His Dark Materials". Bathurst is currently filming a multi-part adaptation of the Halo video game for Showtime.
Taron Edgerton, a favorite of TV viewers, played the role of Robin Hood. Having gained worldwide popularity thanks to his participation in the "Kingsman: The Secret Service" film, the actor never ceases to amaze viewers with his acting skills. Edgerton's acting future looks even more promising after receiving a Golden Globe for his role as singer Elton John in the biopic "The Rocketman." By the way, it was Edgerton who voiced the Moomintroll character in the latest animated series based on the works of Tove Jansson.
One of the critics' worst films of 2018, "Robin Hood" failed the box office and couldn't even recoup its budget.
About
Robin Hood is a co-production action-adventure film inspired by English medieval ballads. The world premiere of the film took place on November 20, 2018.
Related Films
Kingsman: The Secret Service
Kingsman: The Golden Circle
King Arthur: Legend of the Sword
Tags: England, Middle Ages, Noble Rogue, Adventure, Action, Taron Edgerton, Jamie Dornan, Ben Mendelssohn, Jamie Foxx