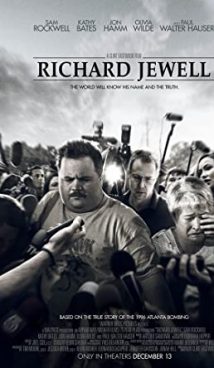 Synopsis
It is an ambiguous story about Richard Jewell (Paul Walter Hauser), who worked as a security guard at the Olympic Games of 1996 in Atlanta. When a bomb was discovered during the concert, he saved hundreds of lives and instantly became the hero of America. However, Richard did not have to rest on his laurels: the FBI took interest in his person with a lack of other suspects, and his name was leaked to the press. Despite the fact that the secretive agencies can't prove Jewell's guilt, he was harassed in the media and became an outcast. Attorney Watson Bryant (Sam Rockwell) is the only person who believes in Richard's innocence, and together they start a fight with the FBI and the media trying to restore Jewell's fair name.
Interesting facts
Richard Jewell is entirely based on real facts.
In 2020, the second season of the anthology series Manhunt: Deadly Games was released dedicated to the terrorist attack at the Olympic Games of 1996. However, it not only talks about Richard Jewell, but also follows the capture of the real criminal, bomber Eric Rudolph.
Actress Kathy Bates was nominated for the Academy and Golden Globe awards for the role of Jewell's mother.
 Information
The American-made TV film is shot in the biographical drama genre.
The film premiered on December 13, 2019 in the United States.
You can watch the movie trailer online on the website without registering. You can also find interesting facts about the film and find out the release date in Russia.
Where can I watch the movie online?
Richard Jewell is available on several streaming platforms as follows: Okko, ivi, Apple TV Plus and Google Play.
 Related Movies
Bombshell
Official Secrets
Sully