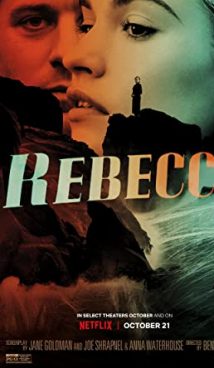 PG-13
02 hours 01 minutes
Synopsis
A chance meeting in Monte Carlo changes the lives of two people. She is the companion of the elderly Mrs. Van Hopper. He is a young widower Maximilian de Winter, who comes to Monaco a year after the death of his wife Rebecca. An affair begins between a man and a woman. The relationship continued after the couple returned to Britain. Maximilian brings his new lover to his home. The girl is ready to become the new Mrs. de Winter. But is the castle in Cornwell ready to accept a new mistress in place of Rebecca? Simple discomfort turns into terror and fear for the new Mrs. de Winter's own life. She begins to suspect that she is being haunted by the ghost of Rebecca.
Did You Know?
Rebecca will premiere on the Netflix streaming platform for worldwide subscribers on October 21, 2020.
The film is based on the novel of the same name by the English writer Daphne Du Maurier. The book is often called not only the best in Du Maurier's bibliography, but also one of the most fascinating detective stories by English authors. The novel has gone through a dozen adaptations, the most famous of which was the 1940 film Rebecca directed by the great Alfred Hitchcock. This film won two Oscars, and Laurence Olivier played one of the main roles.
In 2006, the detective story turned into a musical. It was written by Michael Kunze and produced for the Vienna Theater by Silvester Levaj
Actress Lily James is no stranger to retro surroundings. We could see her in the role of Lady Rose Aldridge MacClare from the cult show Downton Abbey, as well as Natasha Rostova from the British TV series War & Peace. Lily also managed to play the role of Cinderella in the adaptation of the classic Disney cartoon.
Information
A British-made film based on the novel of the same name by Daphne Du Maurier. The world premiere of Rebecca will take place on October 21, 2020 on the Netflix streaming platform.
More Like This
Rebecca (1940)
Crimson Peak
Tags: Film Adaptation, Detective, Retro, Young Wife, Ghosts of The Past