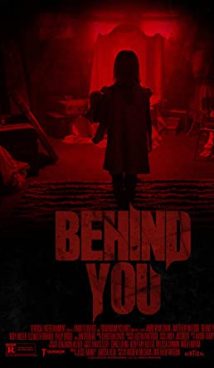 Synopsis
Olivia and Claire, two orphan sisters, are forced to move into the house of Beth, their aunt. Despite the fact that the girls are going through the death of their mother, Beth is not shy about showing her difficult temper. Olivia and Claire in their new life are faced with a lot of restrictions, among which the main prohibition is the house basement. Beth strictly forbade opening the door leading down the stairs. Of course, curiosity prevails over fear, and the girls end up in this restricted area where they hear the voice of their dead mother. In fact, this demon is using a voice they are very familiar with – but how could orphan girls even imagine that?
Interesting Facts
Behind You is the debut feature film by Andrew Mechem and Matthew Whedon, two directors. They are currently working on Nameless Days, a new horror film that will be released in winter 2020. It is interesting to know that Matthew is the older brother of Joss Whedon, who worked on The Avengers blockbuster. Both brothers are third generation screenwriters.
Jan Broberg, the actress who played Aunt Beth, became famous a few years ago – not because of her acting career. Abducted in plain sight, the 2017 documentary, shocked viewers with its story about Jan, who, being a teenager, was involved in a relationship with her adult neighbor, friend of the Broberg family. Bought to be shown on the Netflix streaming service, the film was a hit and drew public attention to Jan, who was generally not a successful actress.
Eddie Miller and Elizabeth Birkner, the actresses who played the orphan girls, are just starting their acting careers. Although Elizabeth only appeared on the Outpost TV show, Eddie has starred in many short films. In addition, she managed to play two different zombies, once starring in The Walking Dead show and then again after 7 years.
The film premiered in the US on April 17, 2020 and immediately became available for viewing on the Internet. In some countries, the release took place only in the late summer of 2020.
About
Behind You is an American horror film. The world premiere took place on April 17, 2020.
Related Films
Dreamcatcher
In the Trap
Voices