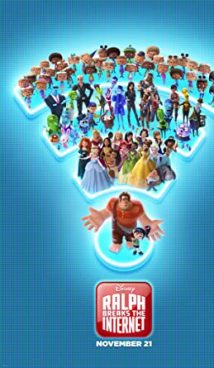 Synopsis
Ralph and Vanilopa, the inhabitants of the ancient coin-op games, hit the Internet, the largest trash heap in human history. Everything in this place looks beautiful, interesting and very chaotic. The attributes of not only the World Wide Web, but also the Disney studio, which shot this cartoon, will flicker before the eyes of the audience. Viral videos, search engines, Disney princesses, "The Avengers" characters, online flea markets, imperial stormtroopers – all these things are presented in a humorous form by the creators of this cartoon.
Interesting Facts
First shown to the public in Los Angeles on November 5, 2018, the "Ralph Breaks the Internet" cartoon was released on November 21 of the same year. The digital release of the cartoon took place in 2019, after which it became available for viewing on streaming services.
All the Disney princesses except Aurora, Snow White and Cinderella were voiced again by actresses who had previously given their voices to these characters in the original animated films.
Since the cartoon grossed more than five hundred million dollars at the box office and was liked by both viewers and critics, a sequel will most likely be filmed – however, the studio bosses remain silent about this. As for the directors, they are eager to make a spinoff about the adventures of Disney princesses.
About
Ralph Breaks the Internet is an American-made animated comedy adventure with a world premiere on November 21, 2018.
Related Films
Wreck-It Ralph
Zootopia
How to Train Your Dragon: The Hidden World
Toy Story 4
Finding Dory
Tags: cartoon, Disney, slot machine, game characters, digital age