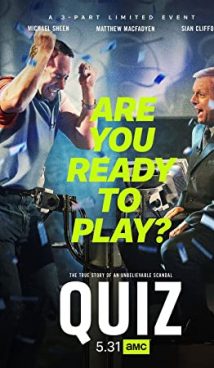 Synopsis
UK, 2001. Major Charles Ingram wins the top prize in the super popular game show Who Wants to Be a Millionaire? However, the producers of the TV-show start to suspect that something is wrong and, after watching the recording, find that Charles's accomplices in the studio coughed on the correct answers. And even before the winner could get the prize, the TV bosses were suing Ingram and his wife Diana.
The TV series Quiz is based on real-life events.
Interesting Facts
The role of the quiz Who Wants to Be a Millionaire? host Chris Tarrant is played by the incredible British actor Michael Sheen. He became even more famous in 2019 because of his role as the angel Aziraphale in the TV-series Good Omens.
By the way, one of the Who Wants to Be a Millionaire? creators, Stephen Knight, is behind such blockbusters as Taboo with Tom Hardy, See with Jason Momoa, and Peaky Blinders with Cillian Murphy.
The main character in Quiz is played by the actress Cyan Clifford, who is well known to the viewers as the older sister of the Phoebe Waller-Bridge's character from the TV-series Fleabag. By the way, for this role, Sian Clifford was nominated for an Emmy Award.
After this incident on Who Wants to Be a Millionaire? there were several documentaries about the Ingram spouses, as well as a book and a play that became a basis for this series. Besides, Charles Ingram's story inspired the Indian writer Vikas Swarup to write Q&A, on which Danny Boyle's Oscar-winning film Slumdog Millionaire is based.
Information
This is a British-made drama TV-series based on the James Graham's play with the same name.
The premiere of the first season took place on April 13, 2020 on the British channel ITV.
FAQ
What channel is behind the series production?
This miniseries was filmed for the ITV TV-channel.
Will there be a continuation?
No. Quiz was filmed as a miniseries and it is a complete story.
More Like This
The Salisbury Poisonings
Fleabag
Mrs. America