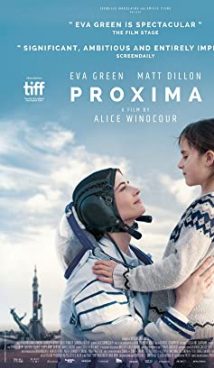 French, English, Russian, German

6.4
Synopsis
Since childhood, Sara Loreau (Eva Green) wanted to fly into space. Finally, her dream came true – she became a real astronaut. Now, she is at the Baikonur cosmodrome preparing for her first flight to the International Space Station. Sara is a member of a space mission called Proxima. 'Proxima' in Latin essentially means "next," that is, "next planet." The mission aims for Mars, and Sara undergoes a very challenging training. It will be difficult for her not only physically, but also psychologically because Sara has a wonderful eight-year-old daughter named Stella ("Star"). However, Sara will have to leave her little star for a whole year. Fortunately, her assistants will not only make sure she's ready for the trip, but also make this mission a whole lot easier.
Interesting Facts
Proxima features a soundtrack by a great Japanese composer Ryuichi Sakamoto.
Proxima's premiere took place on September 7, 2019, at the Toronto International Film Festival, and then, as of November 27, the promotion companies took it to France.
Eva Green, the main face of Proxima, received a claim against her actions in the summer of 2020. The White Lantern film company, which hired an actress to star in the sci-fi film A Patriot, complained that Eva's actions disrupted their film production. The company believes it resultes ina $100 million loss. The case has been taken to court, and Eva Green has filed a counterclaim.
Proxima was partially filmed in Star City, Russia, as well as at the Baikonur cosmodrome.
Information
This is a French-German sci-fi drama film.
The world premiere of Proxima took place on September 7, 2019 at the Toronto International Film Festival.
More Like This
Red Planet
Gravity
Lucy in the Sky
Tags: space, astronaut, Baikonur, training, Star City, Eva Green, Matt Dillon