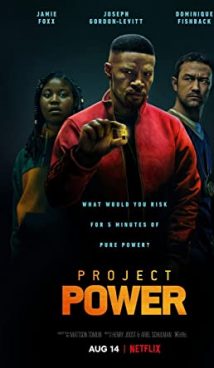 Synopsis
The streets of New Orleans are filled with a new drug. Everyone who takes this drug gains superpowers for a short time. No one knows what kind of superpower he will get until the moment he takes this substance. Frank, police officer who are the antagonist of The Project Power, becomes invulnerable after taking the drug. He joins forces with Robin, a girl drug dealer, to investigate the origins of the drug known as "Power". They meet Art (Jamie Foxx), whom the police believe is involved in the creation of the "Power".
Interesting Facts
Both of the leading actors have previously appeared in other major comic book adaptations. Joseph Gordon-Levitt played Robin in Nolan's The Dark Knight, and Jamie Foxx opposed Spider-Man as Electro. In addition, The Spawn, another adaptation of famous comic book was announced with Foxx as antagonist.
Dominique Fishback proclaimed her acting talent through her role as a prostitute in The Deuce, popular television series.
The world premiere of The Project Power took place on January 14, 2020. From this date, the film is available for viewing to subscribers of the Netflix streaming service.
Machine Gun Kelly, the musician who has been trying his hand at acting in recent years, made a cameo appearance as Newt.
In the summer of 2020, the Netflix focused on projects starring Hollywood actors of class A. The Extraction starring Chris Hemsworth, was premiered in April this year. The Old Guard starring Charlize Theron was released in July 2020. Tom Holland and Robert Pattinson will star in The Devil All the Time, the next film by Netflix. The release of this blockbuster is scheduled for September 16, 2020. It is worth noting that the action movie with Jean-Claude Van Damme is being filmed now on the streets of Kiev, the capital of Ukraine.
About
The Project Power is an American-made sci-fi action film. It premiered on August 14, 2020 on the Netflix streaming platform.
Related Films
The Old Guard
The New Mutants
Bright