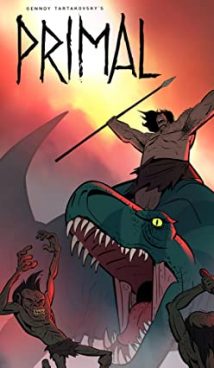 Synopsis
The Primal animated series shows the primitive world with its cavemen, dinosaurs and giant mammals.
One day, a flock of predatory dinosaurs eats the family of a prehistoric man named Spear. Filled with grief, the hero of the animated series meets a female Tyrannosaurus, whose brood has been devoured by the same creatures. Suddenly beginning to understand each other, man and reptile unite their efforts for revenge and survival.
Interesting Facts
The first season of "Primal" was released to the public on October 7, 2019 on the Cartoon Network's Adult Swim, with a total of 6 episodes aired. The second part of Season 1 was premiered on October 4, 2020. Although the animated series has been renewed for a second season, a date has not yet been announced.
Gendy Tartakovsky, the genius of modern animation, is the creator of the animated series. He is also best known for his work on animated series such as "Dexter's Laboratory", "The Powerpuff Girls" and "Star Wars: The Clone Wars". In 2001, the first season of "Samurai Jack" was released, which became a landmark for Tartakovsky. Recognized as a cult, this animated series is considered one of the best in the history of television.
At the 2020 Emmy ceremony, the "Primal" animated series hit three awards at once. At the moment, Gendy Tartakovsky can boast of four Emmy Awards and countless nominations.
About
The Primal is an American-made animated series filmed in the genre of adventure. Season 1 premiered on October 7, 2019.
Related Shows
Star Wars: The Clone Wars
Samurai Jack
Dexter's Laboratory
Tags: dinosaurs, mammoths, prehistoric man, adventure, cruelty, survival, drama