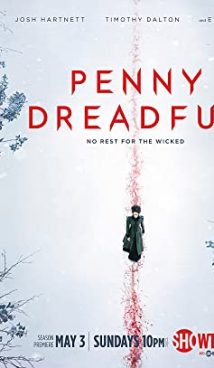 TV-MA
01 hours 00 minutes
Synopsis
The TV show takes place in Victorian London, a city of fog and mysticism, drama and monsters – this is a place where things are not what they seem. So, "Penny Dreadful" creators have prepared for the audience the real emotional roller coaster.
This multi-part mystical thriller tells the most macabre stories of old London, featuring witches, mediums, werewolves, vampires, Frankenstein and his monster. However, the showrunners did not limit themselves to the named characters, so a terrible sight awaits the audience.
 Interesting Facts
The first episode of the TV series was aired on April 28, 2014 on the US television channel Showtime. Renewed twice, the TV show was canceled on June 19, 2016.
Four years after the final episode of the TV show was released, "Penny Dreadful: City of Angels", a spin-off featuring 1930s Los Angeles, was premiered. Although "Penny Dreadful: City of Angels" was well received by critics, Netflix decided to close the TV series after the first season.
Sam Mendes, who directed the iconic "American Beauty", the war drama "1917" and two movies as part of the 007 franchise, is one of the co-creators of the "Penny Dreadful" TV show. Spanish director Juan Antonio Bayona, now working on "The Lord of the Rings" television series, also had his hand in "Penny Dreadful".
About
Penny Dreadful is an American-European mystical thriller TV series. The first season of the TV show premiered on March 9, 2014 at the South by Southwest Festival.
Related Shows
Penny Dreadful: City of Angels
True Blood
Preacher
Grimm
The Strain
American Gods
Tags: mysticism, drama, horror, London, past, supernatural beings, thriller, horror, Eva Green, Dimothy Dalton