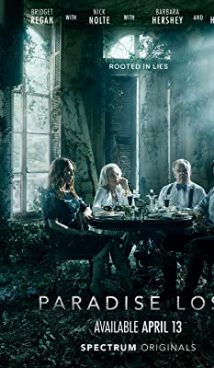 Synopsis
This is a fresh attempt to create something new in the "back-to-small-town-full-of-secrets-of-the-past" genre.
Yates Forsythe (Josh Hartnett), his wife Frances (Bridget Regan) and two their kids move from California to their hometown in State of Mississippi. It was not difficult to them to grow their roots there, as Yates's father (Nick Nolte) is a big man. It was quire unexpected for Frances to find out that her family has many skeletons in the closet and her husband turns out to be a man she never knew before.
An easy and fancy story about the past begins…
Interesting facts
Paradise Lost is shot by order of Spectrum, a large Internet provider in the USA, which decided to join the content race. The service has not much of the series, but it bears mentioning that it broadcasted the Manhunt series, a real story about the terrorist recapture.
Josh Hartnett pays the leading role; in the early noughties he looked like a Hollywood rising star, but, unfortunately, now he hardly ever appears on TV successfully. Perhaps, his role in Penny Dreadful, an excellent postmodern series that ended four years ago, was the last significant work.
Information
The America-made TV series is shot in the thriller genre.
The first season premiered on April 13, 2020 on Spectrum American service.
FAQ
What channel is producing the series?
Paradise Lost is shot by order of Spectrum, the Internet provider in the USA, for its own online library.
While the series final ending unquestionably points at the prospective renewal, the producers keep quite on Paradise Lost series renewal.
Related Series
Penny Dreadful
Defending Jacob
Sharp Objects
Home Before Dark