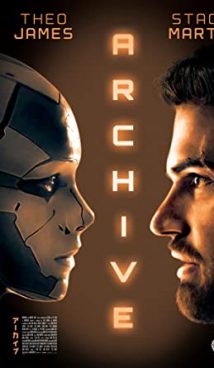 Synopsis
The action takes place in 2038, in the not-too-distant future where humanity has focused all its efforts on creating improved AI-based technologies. George Elmore, a young scientist, was able to achieve the greatest success in this direction. Alone in a secret laboratory away from humans, he is working on a major project in his life. George recently became a widower, but he managed to upload his wife's mind to a cloud service. Using advanced technology, the scientist is trying to create an advanced android in order to place into it the identity of Jules, his deceased wife. He has several robots that are just trial versions. Since George uses all technology for his own purposes, serious trouble awaits him. Archive is another discourse on the problems of the relationship between the human mind and AI. At the end, an unexpected outcome awaits the viewer, leaving a lot of room for reflection on the problems that are becoming more pressing.
Interesting Facts
Gavin Rothery, who made his directorial debut, is also a scriptwriter. At first glance, the Archive resembles Duncan Jones' Moon 2112, which is not surprising since Rothery took part in the filming of this picture while being part of the art department.
Theo James, the lead actor, is best known for his involvement in Divergent, a popular three-part franchise.
The Archive was originally slated to premiere in March 2020 at South by Southwest, a science fiction festival. However, due to the coronavirus epidemic, the release in the United States took place on July 10 and the film became available for viewing on the Internet. In some countries, the Archive made its way to cinemas and was officially released in August 2020.
While most of the filming was done in Hungary, the street scenes were filmed in Chicago.
About
The Archive is a multi-country co-production film in the science fiction genre. The world premiere took place on July 10, 2020.
Related Films
Ex Machina
Her
Arrival
Blade Runner 2049