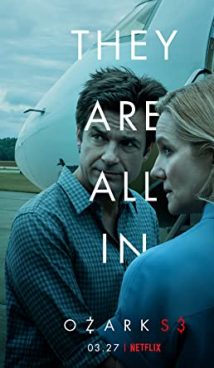 TV-MA
01 hours 00 minutes
Synopsis
One of Netflix flagships, crime family drama.
Marty Byrde (Jason Bateman), a financial adviser from Chicago, is involved in the Mexican drug cartel money laundering process. He moves with his family to Missouri, where the Ozark summer resort is located. He will be forced to continue his criminal business here.
Ozark is one of the rare series that are getting better and better every season. In the third season, Marty's wife, Wendy (Laura Linney), enters the criminal game. The dangerous whirlpool is getting faster and faster, and Marty has no choice but to work.
Critics are already comparing the third season with the classic Breaking Bad, draw attention to the amazing acting job of the entire cast and predict triumph at the award ceremonies.
Interesting facts
Young Julia Garner became an unexpected discovery of the series. She is one of the most promising actresses of the generation. We will see her soon in the TV adaptation of the story of Anna Sorokin, the famous Russian fraudster. By the way, Julia is married to Mark Foster, the leader of the popular rock band Foster the People.
There are two victories and 14 Emmy nominations, as well as two Golden Globe awards nominations in Ozark's bag.
Ozark series has opened new horizons for the talent of comedian actor Jason Bateman. Suddenly for the audience, he coped with the dramatic role amazing everyone with the character of Marty Byrde. Besides, Bateman found himself in directing: he independently shot eight Ozark's episodes. Judging by his creative plans, he likes the role of director and will continue it.
Information
The American-made TV series shot in the crime drama genre.
The third season premiered on March 27, 2020 on the Netflix platform.
You can watch the series trailer online on the website without registration. You can also find interesting facts about the series and find out the release date in Russia.
FAQ
What channel is producing the series?
All seasons were commissioned by the Netflix streaming platform.
When did the third season come out?
The entire season is available from March 27, 2020.
Netflix confirmed the last fourth season for Ozark series.
Related Series
Breaking Bad
Fargo
The Outsider
Tags: crime, drama, money laundering, drug cartel, family drama, casino