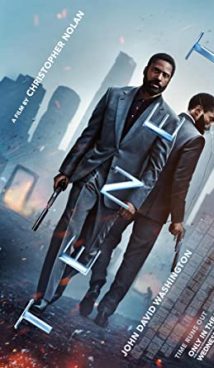 PG-13
02 hours 30 minutes
Synopsis
There has been a huge amount of secrecy surrounding the storyline of Christopher Nolan's Tenet. All we know so far is that the story centres on a secret organisation specialising in espionage and capable of manipulating time and space. Though we do not have any more details, one thing is for sure: Tenet will have our eyes glued to the screens. But this is Christopher Nolan's thing, after all.
Did you know?
The word Tenet is a palindrome (i.e. stays the same when you spell it backwards).
Tenet stars Michael Caine, a favourite actor of Christopher Nolan. He has been cast in eight of the director's films. In fact, Caine appeared in all of Nolan's films since Batman Begins came out in 2005.
Tenet was shot by the cinematographer Hoyte van Hoytema who also worked together with Christopher Nolan on Interstellar and Dunkirk.
Tenet also stars Robert Pattinson who is still preparing himself for a post-vampire career.
For the first time since the 2006's The Prestige, Nolan has been working with a composer other than Hans Zimmer (currently working on Dune remake). But there is no point getting upset about it — the Nolan's film score was written by a Swedish composer Ludwig Göransson who won the Oscar for the Black Panther's score last year.
Overview
Tenet is an American-British co-production sci-fi thriller film. Tenet is scheduled to release worldwide on August 26, 2020.
Please visit our website to watch Tenet trailer online and check out interesting film trivia and a release date. No signup required.
Frequently asked questions
When will the film have its world premiere?
Tenet will have its world premiere on August 26, 2020.
Tenet was filmed across seven countries around the globe: the USA, UK, India, Italy, Norway, Denmark and Estonia.
See also
Inception
Interstellar
Memento