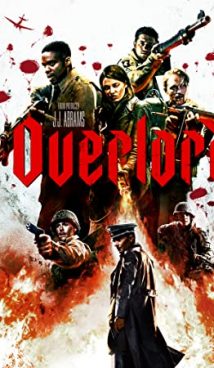 English, German, French

6.6
Synopsis
The Second World War is slowly but surely drawing to a close, and the Allied forces are already liberating France. A small group of American soldiers are sent to the very rear of the enemy – their goal is a small village in which the Germans have installed equipment to create radio interference. Having reached the location of the enemy, four brave soldiers discover that something strange is happening here. It is here that Nazi scientists conduct inhuman experiments trying to create a super soldier…
Interesting Facts
First shown to the public on September 22, 2018 at the Austin Texas Fantastic Film Festival, the thriller Overlord was released worldwide in November of that year. A few months later, the movie became available for viewing on steaming services.
Wyatt Russell, Kate Hudson's brother, is also included in the cast of the film. Wyatt is also known as the son of Kurt Russell and Goldie Hawn. Starting his career at the age of ten, Wyatt has appeared in cameo roles in "Escape from New York" and "The Soldier", both starring his father. Then the boy gave up acting to focus on hockey. However, due to numerous injuries, Russell was forced to end his career as an athlete and later returned to the world of cinema. By 2020, he has become an accomplished actor without looking back at his parents' stellar career. Russell Jr. starred in "The Good Lord Bird", a television series that will premiere in October 2020. And in 2021, the actor will play the role of a superhero named U.S. Agent in Marvel's "Falcon and the Winter Soldier".
The idea for the film belongs to JJ Abrams, who eventually became the film's producer. Although there have long been rumors that "Overlord" will be the fourth movie in the Cloverfield cycle, Abrams denied this.
About
Overlord is a Canadian-American mystery thriller film that premiered on September 22, 2018 in Austin, Texas.
Related Films
Life
Annihilation
A Quiet Place
Tags: World War II, Nazis, experiments, allies, liberation, American soldiers, mysticism, horror, horror, thriller