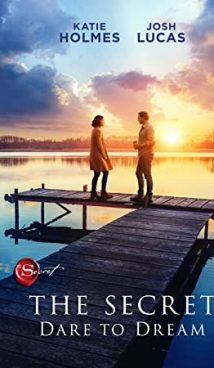 Synopsis
The Secret: Dare to Dream is a kind of adaptation of "The Secret", book by Rhonda Byrne. The filmmakers made an attempt to demonstrate all the principles of this famous and best-selling book. Miranda Wells, a widow and mother of three children, is going through hard times. She needs to be strong to single-handedly raise three children and maintain a large house. Although there is Tucker in her life, a boyfriend who is kind-hearted, but Miranda's feelings for him are not strong enough.
After a series of accidents in Miranda's life, Bray appears, a handsome bachelor who seems an overly optimistic eccentric. Starting to help Miranda and her family, Bray eventually reveals the "secret" of how to make everything so much better in life.
Interesting Facts
Rhonda Byrne pasted several important principles in her book – visualization of purpose, the law of attraction and a positive attitude. Initially, Rhonda's film was released, in which various specialists in theology, personal growth and philosophy talk about the ideas of this doctrine. Then the "Secret" book was published which described the ideas sounded in The Secret: Dare to Dream movie.
The Secret: Dare to Dream movie is executive produced by Rhonda, author of "The Secret" book.
In addition to the "Secret", Rhonda Byrne is also the author of several other books – "Strength", "Magic", and "Heroes".
The film is directed by Andy Tennant, known for films such as The Rules of Removal: Method Hitch, Fool's Gold and Sweet Home Alabama. For his work on The Kominsky Method, a multi-part tragicomedy, Tennant was nominated for a Golden Globe in 2020.
In some countries, The Secret: Dare to Dream was released on August 6, 2020, later than its world premiere.
About
The Secret: Dare to Dream is an American-made melodrama film based on the book by Rhonda Byrne. The world premiere took place on July 24, 2020.
Related Films
The Sunlit Night
Wild Oats
Sweet Home Alabama