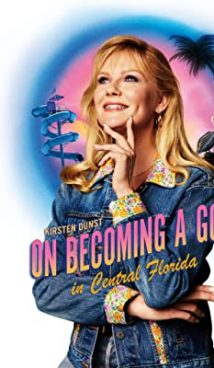 Synopsis
After the death of Travis Stubbs (Alexander Skarsgard), immensely keen on participation in the financial pyramid, his widow Crystal (Kirsten Dunst) is trying with all her might to stay afloat. However, an insidious fate forced Crystal to embark on the path of network marketing. Deliberately starting to participate in a global scam called "Founders American Merchandise", she intends to defeat this monster.
Interesting Facts
"On Becoming a Good on Central Florida" TV series premiered on 16 August 2019 on Showtime.
Going through long and thorny path to the viewer, this TV show was originally developed by Greek director Yorgos Lanthimos, commissioned by AMC. The display rights were then bought by the YouTube Premium platform. However, Showtime became the definitive platform for his show.
The TV series was initially renewed for a second season. However, according to Showtime in September 2020 – in the midst of the second wave of the coronavirus pandemic – resuming filming is impossible due to the difficulty of assembling the entire film crew. So, the TV show is now officially closed.
Previously starred in "Melancholia", Lars von Trier's fantasy drama film, Kirsten Dunst and Alexander Skarsgard have already portrayed husband and wife on screen.
About
On Becoming a Good on Central Florida is an American-made tragicomedy television series. The first season of the TV show premiered on August 16, 2019 on Showtime.
Related Shows
The Righteous Gemstones
Fargo
Why Women Kill
Tags: drama, black comedy, network marketing, financial pyramid, poverty, fraud, Alexander Skarsgard, Kirsten Dunst.