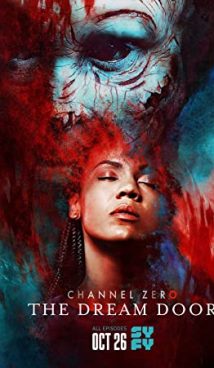 Synopsis
This TV-series is an almanac of terrifying stories, which is trying its best to scare the viewers. Each season does not have any connection with the others, but they all have the same uncomfortable atmosphere that will make you flinch more than once.
The first season, Candle Cove, tells the story of psychologist Mike Painter's return to his hometown where something scary has been happening for a very long time.
The plot of the second season, The No-End House, is the story of how some friends decide to go through a weird quest, and as a result, find themselves in some strange world.
In the third season, Butcher's Block, the two sisters move to a new city, where they immediately encounter a very bloodthirsty paranormal family.
The finale of Channel Zero is a story about a young couple who unexpectedly found a strange door in their house, which they should not have opened.
Interesting Facts
All episodes of Channel Zero were aired on the Syfy channel from 2016 to 2018. The final fourth season, The Dream Door, was released on October 26, 2018.
The showrunner of the series is TV producer Nick Antosca. After Channel Zero, he directed the TV show called The Act with Patricia Arquette, which was extremely well-received by critics and viewers. Now Antosca is working on two TV-series at once — the horror Brand New Cherry Flavor and the multi-episode remake of the cult franchise about the killer doll Chucky.
From the very beginning, Channel Zero was planned as an adaptation of creepypastas — horror stories from Internet folklore.
Information
This is a Canadian-American fantasy thriller TV-series.
The premiere of the first season of Channel Zero took place on October 11, 2016, on the American channel Syfy.
More Like This
American Horror Story
The Exorcist
The Terror
Tags: horror, mystic, horror, anthology, fantasy, drama