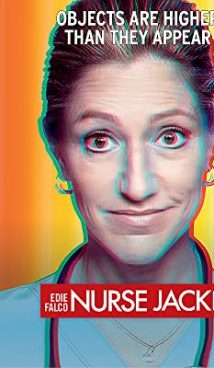 Synopsis
The show is centered round Jackie Peyton who works as a nurse in the emergency room at a New York City hospital. She is a real professional in her field, the mother of two beautiful girls and the wife of the bartender Kevin. Nonetheless, Jackie is a drug addict who is ready for almost anything for a dose of a pain killer 'Vicodin'. She has to lie and betray for the sake of the coveted pill and deceive every person in her social circle maintaining the image of a strong cynical woman.
Interesting Facts
The very first episode of the series "Nurse Jackie" was released on June 8, 2009 on the American television channel "Showtime". The series received rave reviews and was soon renewed for a total of seven seasons. The final episode "Say a Little Prayer" was released on June 28, 2015.
The leading role is played by the wonderful actress Edie Falco who is remembered as the wife of the main character in the cult series "The Sopranos". Interestingly, since 2000 Edie has been nominated for Golden Globe and Emmy awards almost every year, first for "The Sopranos" and then for "Nurse Jackie". As a result, the actress has two Golden Globes and four Emmy awards. After the finale of "Nurse Jackie", Falco appeared in two crime series: in "Law & Order True Crime" TV show she played a lawyer, and in "Tommy" TV series she played the chief of the Los Angeles Police Department. Among other things, she got into the casting list of "Avatar" sequels and in 2022 we will enjoy Edie Falco's starring in the new film of this franchise. By the way, the actress knows firsthand what addiction is: for many years she has been fighting herself and helping others to get detox and to break the hold of alcoholism.
Also, "Nurse Jackie" TV series revealed to the world Merritt Wever, the actress who slowly but surely gaining popularity. In recent years, her name is highlighted a lot thanks to Merritt's starring roles on the hit TV shows "Unbelievable" and "Run".
About
"Nurse Jackie" is an American-made television series filmed in the genre of medical tragicomedy.
The first season of "Nurse Jackie" premiered on June 8, 2009 on Showtime.
Related Shows
House, M.D.
Glow
Tommy
Law & Order True Crime
Tags: medicine, hospital, drama, comedy, addiction